Entrepreneurs of today and tomorrow should accept the fact that the world has changed and they need to disrupt to survive. You can't any more work in silos and win the battle alone. You need to explore the power of collaboration and then negotiate the deal to crack it.
Every sales effort, be it for a luxury brand or for an insurance policy, needs to be driven by data and should be in accordance with how people would react to it. Social media has changed the entire consumer buying journey. You need to understand how to connect with your prospect or lead at every stage of buying journey. You can't just use one medium to do everything (unless it is social media in general).
Prospect to the Customer journey
A typical approach of converting a prospect into a customer could simply go like this:
You reach out to people through social media ads
They start to follow you on your page and blogs.
You build consideration amongst these people about your brand and business through value-driven content (blogs).
You offer them discounts through emails and chatbots
Once they show interest you can follow up on individuals through WhatsApp, email or call.
In short, the entire sales process is now driven by digital tools and so your daily checklist would be created accordingly.
Now to understand there are certain things which are to be taken care of by your Marketing or Content team or person, e.g. Social media ads, blog posts etc. Your role would be to pursue your lead through different channels in a not so pushy way and make sure that the conversion actually happens.
All you have to do is to put this as a checklist in your task app as a daily repeat task (use Evernote or Basecamp or Flock or whichever software you are using) And make sure you follow all these on a daily basis and not miss a single one any day.
Point#1 Check your Sales Objectives & Targets 
You need to remind yourself and actually check what and why do you want to achieve something. You should have your sales objectives clearly defined, you should also have your targets set for monthly sales and daily sales. Revisiting every day your target would help you keep motivated and it would work as a reminder that you need to work really hard to up this game.
Point#2 Create Daily Agenda
You could be an amazing negotiator, you could be a super salesman but you need to have your daily plan of what all needs to be done today. This can typically include:
Followups required for previously contacted leads
New lead calls/emailers/WhatsApp messages
Meetings/Online demos/Skype calls with most interested clients
Research and study about the new leads
Don't push yourself too much, all you need is to have things logically in your list. You understand your business and your sales process better, you would be the best person to create your daily agenda. I would recommend you to do it compulsorily.
Point#3 Revisit Your Customer Personas
You should always have your ideal customer persona or persona of your existing customer. Revisiting the customer persona would make you understand your existing leads in a better way.
A typical persona would have demographics, psychographics and pain points of your ideal customer, and how would you connect with them. When you visit a typical target persona you can know which leads would fall in which category and how effectively you can initiate your communication.
A typical persona looks like the following (if you have not created personas, I would highly recommend checking this post about success steps in social media where you can read the step 2 to find out how to create a target persona: https://faizanization.com/7-proven-steps-to-succeed-in-social-media-marketing/ )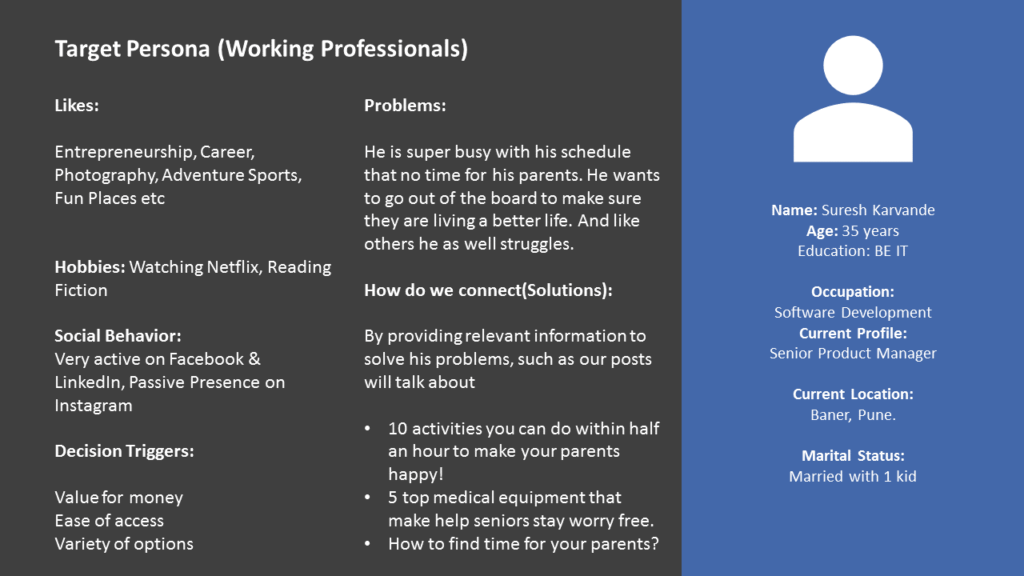 Point#4 Keep your emailers and messages handy 
You should not be writing emailers every day. Create email templates for introduction, followup and almost every regular email that you need to send. I am not asking you about the regular promotional emailers. You need to have templates defined and being revisited every day for the everyday emailers.
It won't just help you to save time but to improvise your communication with your clients on a daily basis. The only key is to first have these templates created and then revisiting them every day to improvise. Every time you read something that you wrote, you can make changes for the good on every revisit.
Point#5 Research Your Leads and Do a Qualification test
Before sending any emails or making a call, it is crucial to do research about these leads or contacts that have been shared with you. You can check the following in each of the lead and see if they qualify as a lead by comparing with your personas:
Check their social media profiles
Check their business website
Check their personal blogs
Look for their presence online by doing Google search
Match the details with your personas if this lead match with your criteria or not
Point#6 Second Followup 
The reason for keeping it as a checklist point is to emphasize the same on a daily basis. Most of the sales people you would speak to would say this that sales actually happens after the second follow-up.
Always have a system to follow up on your leads, don't automate your followups, customize it for each of your important leads. Automation would definitely help when it comes to a large number of leads and product being a low price product.
However, with high price products and less number of leads, especially with the service sector, automobile, and real estate, it is super important to send a custom followup email or message or do a call according to that specific lead.
Point#7 Cold Emails/Contacts
To achieve your goals, sometimes you can't rely on your leads coming from ads and website. You need to go one step ahead and speak with the people who might be your customers.
You have your target personas with you, all you have to do is to reach out to these people through LinkedIn or Facebook or Instagram and tell them about your services/products.
You need to be super creative with your communication. Communicate with them as you are solving their problems with your products or services. Or show them that you are helping to save their money or help them achieve a better life.
Keep this checklist in front of your work desk or use software to not forget about it. If you are an entrepreneur have your co-founder to report about your tasks daily, if you are an employee or a salesperson, share this report with your boss too.
It will help you to not miss things and get amazing results for your business 🙂