Eid is a day of celebration, a day when you receive the rewards of all your good deeds during the holy month of Ramadan. A joyous festival of breaking the fast, marked by the appearance of the waxing crescent moon is a great occasion of merriment for millions of Muslims across the globe.
It is also an opportunity not to be missed by brands to create topical connections with a big chunk of their audience. Characterized by warmth, love and the unmistakable marker of the crescent moon, brands often use this prospect to get creative beyond imagination with engaging visuals accompanied by festive greetings.
Social media is a space that has lately grabbed the attention of brands, owing to its audience's uninterrupted availability on the platform. Here are some of the most endearing digital Eid greetings, curated over the years.
[01] Coca Cola's minimal masterpiece
Come what may, Coke's mastery over minimalism is unbeatable! This was proved yet again with the brand's digital Eid Mubaarak post on Coke India's handles across platforms. Who knew frothing bubbles along the edge of a glass could so beautifully depict the crescent moon? Well, Coke's digital marketing team did a commendable job with a 5-second video. The brand, synonymous with happiness, did manage to bring smiles on all our faces with sheer simplicity.
[02] Commonfloor's message of communal harmony
Always true to its name, the brand used its namesake to create a smart social message for the occasion – that the floor truly is common for all. The post promoted communal harmony despite differences, by depicting two characters of different religions sharing a single mat to pray and practice their own faiths in peace. The backdrop too, very smartly captured a commonly seen architectural structure which could hold good for either of the religions in question. This truly deserves words of appreciation. Well done!
[03] Amul simply hugs
Every marketing professional could always learn a thing or two from Amul's communication that strikes the right chord every time. Although renowned for its unbeatable timely topical content, Amul chooses to greet its audience on festive occasions with its original product – milk. There is no denying that milk is a big part of joyous community celebrations. The visual of the two milk glasses engaging in a warm embrace personifies the spirit of brotherhood and love that marks the festival of Eid.
[04] Emaar goes premium
The Global premium property developer, known for the exhilarating design aesthetic, caters to an aspirational lifestyle of a niche community. Obviously, the brand brings its legacy alive through each piece of communication, including this exquisite Eid Mubaarak post that simply captures the grandeur of the landscape dotted by Emaar's very own regal creations in Downtown Dubai.
[05] Oreo, at the centre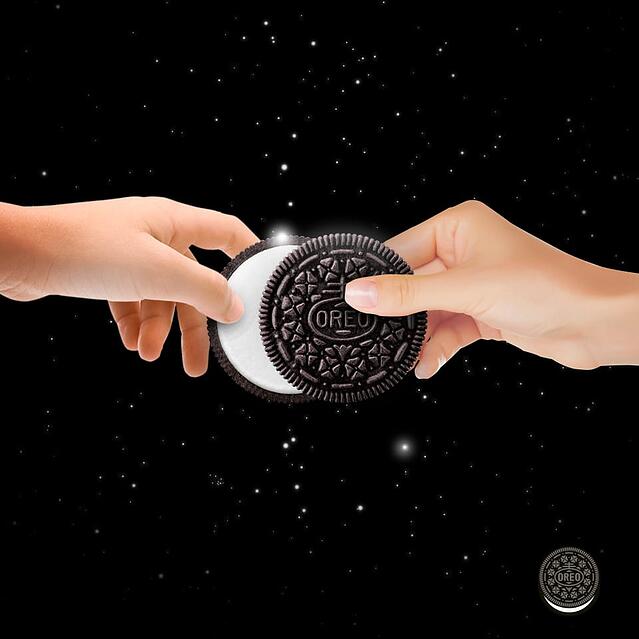 Oreo's cookie is always at the centre of the brand's communication. The dark chocolate cookie with the white cream fits seamlessly into most creative depictions. Creating a crescent moon with the cookie comes with a complementary dark night sky in the ambience. This post is a testimonial to the endless creative content the brand comes up with to tastefully engage its audience on digital platforms.
[06] BookMyShow's filmy touch
The widely used entertainment information and booking platform had something very different to offer for Eid. A lot of Indian film enthusiasts and actor Salman Khan's fans await his yearly Eid releases, which became the central theme to BookMyShow's nostalgic post. With snaps from some of the most iconic songs of some popular Eid release films of the yesteryears, the brand said entertainment like no other. Marketing off a star's popularity, 'cause why not?
[07] McD proves fries are diverse
Prayer and love, two integral parts of not just Eid, but Islam were captured by this unique digital post by everybody's beloved McDonald's. The waxing crescent moon, illustrated by the signature golden crisp potato fry, is one of the many ways in which it has been creatively used over the years. The pun is a catchy, yet minimal way to appeal to millions worldwide. Who wouldn't be lovin' it?
[08] MI's band with a twist
MI created this beautiful, heart-warming greetings post with the product at the centre of it. The brand always finds innovative ways to establish simple, yet lasting connections. The presentation must have surely made every MI band user look at his product in awe and sheer fondness as this short video made its entrance on the screen on Eid day. MI's post was simply touching, with a touch of the festive feel.
[09] Nothing like Cadbury's sweetness
Cadbury Dairy Milk has spent years, placing itself as 'the sweet' for every festive cause for celebration, Eid being no exception. The royal purple brand colour already sets the celebratory tone, while the mesmeric backdrop complements the visual hero – the irresistible chocolate itself! What the brand has to say with it, simply gives the viewer that last push to give in to temptation and rush to a shop right away!
[10] Swiggy, our kind of moon sighting
Food delivery service turned hyperlocal pick and drop service, Swiggy has gained popularity for making life smoother while the nation is in lockdown. However, this pick is frrom 2019 Eid. Creative thought and simple communication that can leave a lasting impact. I should say this is my kind of Eid post 🙂
While an Eid post carries certain clichés, like the moon, the sky, the stars and at times the mosque, it is important that the brand adds its own touch. Be it the unique service, product, experience, social stance or a commonly recognized element of the brand's communication, connecting them all seamlessly creates marketing magic with potential to go viral on social media.
What is your takeaway from these catchy Eid campaigns? What are some other digital Eid campaigns that stood out to grab your attention while scrolling away on social media? Let's take the discussion to the comments section.