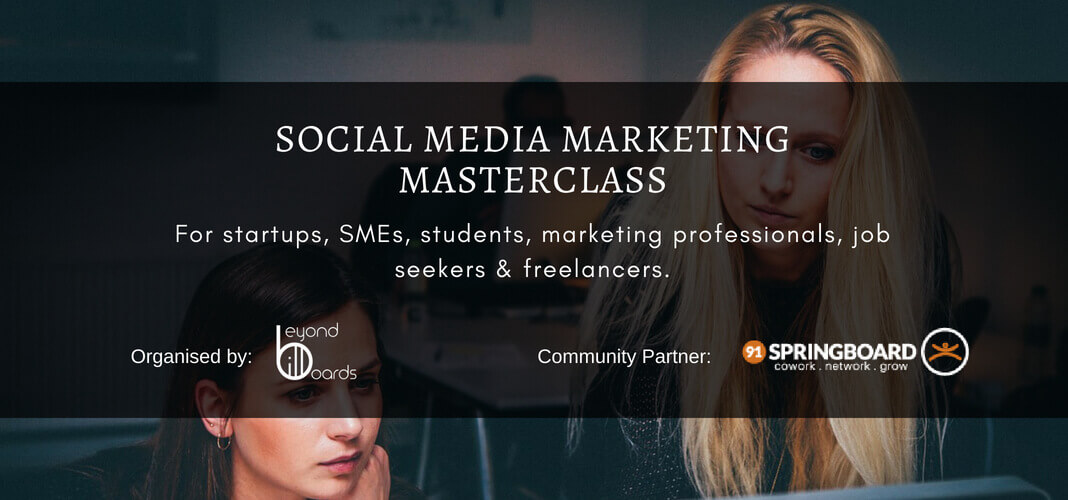 Are you a business owner who is struggling to promote your business with social media?  Or a marketing professional who is willing to disrupt and learn the modern age digital marketing technologies? Are you a student who wants to build a career in the ever-growing industry of social media? Or a brand manager who would like to learn social media to keep up with the latest trends? Are you an everything digital enthusiast who has never been exposed to the true power of social media marketing? Or a freelancer who wants to grow his customer's list through social media?
If you want to get results from social media for your business or brand, we have a solution for you. Meet me in one of its kinds social media marketing MasterClass where we will learn the skills and strategies to win social media marketing.
Key benefits of joining our workshop
A comprehensive workshop for start-ups, SMEs, CEOs, thought leaders, artists, students, and freelancers to learn social media marketing.
From the basics to the secrets of social media, you will learn social media in an interactive format with me who has spent a decade working with digital marketing.
At the end of the workshop, we will make sure you are ready to market your own business, your own personal brand or the company you are working with through social media channels.
You will also get a chance to learn how to create a digital marketing strategy for a business with examples of big brands.
The course will also help you to grow your personal brand, build an audience and become an Influencer in your domain.
Topics to be covered in the MasterClass
-> Digital Marketing Ecosystem
-> Content Marketing & Digital Channels
-> Social Media Marketing
-> Content Creation & Curation
-> Social Media for Customer Support & ORM
-> Social Media Strategy
-> Social Media Advertising (Paid Ads)
-> Influencer Marketing
-> Social Media Tools
-> Connecting the dots with social media case studies or success stories
Here is the format/agenda/schedule of the workshop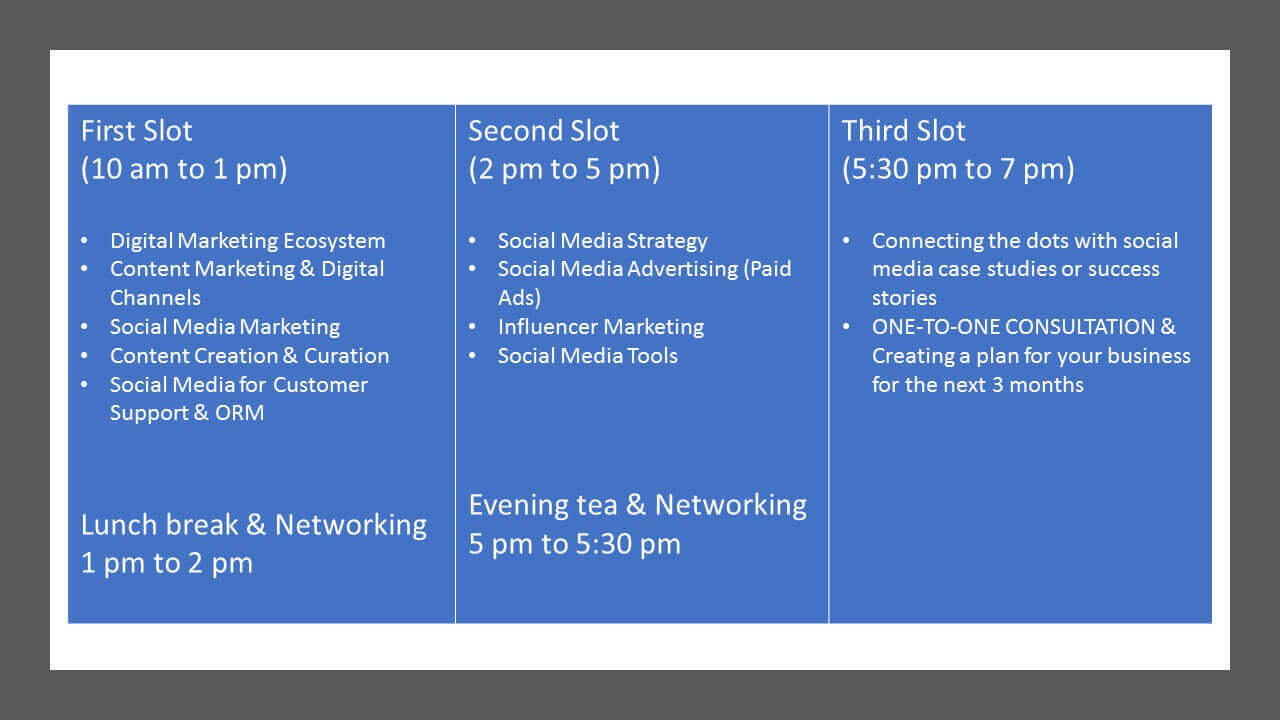 Other Key-Takeaways
Certificate of participation
One-to-one consultation for your business or your career
Three months execution plan for your business / your personal brand, that you will follow by spending one hour every day
Weekly webinar access (for three months)
Strategy framework template
Customer service process framework template
Free PowerPoint templates to create social media posts easily & amazing slideshow presentations easily.
Free social media calendar templates & some other cool stuff to make your life easier.
Download the Workshop Brochure:
YOU CAN DOWNLOAD THE BROCHURE FOR DETAILED CONTENT OF THE WORKSHOP FROM THIS LINK: http://bit.ly/SocialMediaMarketingMasterClass
Register yourself for the workshop:
Get your queries solved:
If you have any doubts or queries before registering for the event, feel free to connect on the following number, simply call or click the same to send a message on WhatsApp
Why Social Media Marketing?
if this question of why social media marketing still haunts you and you are still wondering why you should learn social media, this could be most probably because you belong to the any of the following:
Somebody tried social media for his/her business and have told you it does not work.
Or you have tried using it but have not seen any growth.
You may still be living in ignorance and never tried to figure out if it could benefit your business.
Probably you are a traditional advertising guy still sleeping in the print or TV world
You understand the value of social media but don't think you can learn it yourself.
Or you don't think if it would be useful for your business.
The reason could be any of the above or could be one that is not even listed here, whatever your reason is, let's try to communicate that with some factual arguments.
The answer to why Social Media?
(The beauty of Social Media Marketing)
Social Media is such a beautiful tool that has been created as a blessing for everyone. Be it a consumer or a business owner. Here are a few points that clearly distinguish social media marketing:
Majority of humans now to spend a fixed number of hours daily on social media channels.
People love to follow & communicate with brands on social media that they use in their personal lives.
As a business, you can engage with your audience in real time.
You can reach out to the right audience based on demographic and psychographic targeting.
You can get feedback on your product or services you are selling.
There are a great possibility and ease of building a community of your loyal customers.
In addition to the above-mentioned points, the following slides will give you some more reasons to love social media:
Don't waste time, as we have limited seats, book your place now for an amazing social media session:
See you at the event 🙂