If you are an entrepreneur or a business owner, a marketing manager or someone who is responsible to grow your business and have tried your hands with social media marketing. But nothing has worked out for you yet, there may be some basic mistakes that you are making.
I understand that you must be overwhelmed with the information available online. You don't know where to begin, what to do what to check and whatever you try seems to be working initially but doesn't convert into quantifiable results. Don't worry you are not alone.
You just lack a proper strategy for social media, a holding hand who can walk you through the right steps and get you there where you deserve to be. Let me try and give you the steps that you need to take or the questions that you need to ask that would help you align your social media presence.
A very basic mistake that usually startups and SMEs commit is by jumping into social media without thinking of why what and how of social media marketing. Initially, it may look all good, but as I said earlier, it won't help you get results.
So let's waste no more time and jump to those questions which would help you shape up your social media strategy and create an effective presence that not only looks good but also helps you to drive quantifiable numbers.
1 _ Do you have clear objectives for social media?
A common answer that you would hear is, yes, I know what I want to achieve. I want to grow my sales. Another evolved answer you may get would be, "Yes, I want to build brand awareness". If you are in luck, you may find a person who would revert, "Yes, I want to get engagement on social media channels".
Trust, me these are the reasons you are failing or they are failing on social media channels. Because these objectives have no clarity no timeline or simply no destination. Whenever we talk about objectives on social media, we need to be very specific.
An entrepreneur may be a great visionary, he would have a vision of achieving something great, but he needs to put time-bound objectives to drive results for his business. Same goes with social media marketing too. You need to have very clear and timebound objectives.
So let me give you an example of the same.
If you are a dietitian and you have recently started your private practice, you are going to start your social media activities. So you will define your objectives as:
Creating awareness about my personal brand/company for the first month
Getting people to engage with my content during this time period
For the first month, I want people should know my brand name
For the first month, I want people to know me as a dietitian
This may seem still not super clear because it is not unless it is connected with proper KPIs and followed by a few more steps that will be covered in different questions in this post. So let's move to the next point.
2_ Do you have KPIs to measure your objectives?
You know your objectives, but how will you measure them? Which metrics you need to look at that will give you a better understanding of your campaign.
A KPI or key performance indicator would help you to the first benchmark what do you want to achieve and then track it on a regular basis to see where have you reached. In very simple words if your objective is the awareness you can track it with these KPIs: Reach, Impressions, CTR (Click-through rate) or brand mentions etc.
KPIs itself is a huge topic, I would highly recommend reading this article from the Digital Marketing Institute on KPIs. Check the link at the bottom of this post. [1]
3_ Do you know your target audience?
If you are a business owner and you don't know who do you wish to sell, we have a serious problem. The main reason your business exists is that you solve a particular problem of your TG (target group) with your products or services. All you need is a marketing approach to define them so that you can reach out to them easily on social media channels.
The best ways to define your target audience is using buyer personas. A typical persona would have demographics, psychographics and pain points of your ideal customer, and how would you connect with them. When you visit a target persona you would know how to communicate with this person or this group of people.
I would highly recommend checking this post about "7 proven steps to succeed in social media" that I had posted earlier in 2017. In this post I have given a detailed outline of defining a target persona in step 2 of the post, check the resources section for the post link. [2]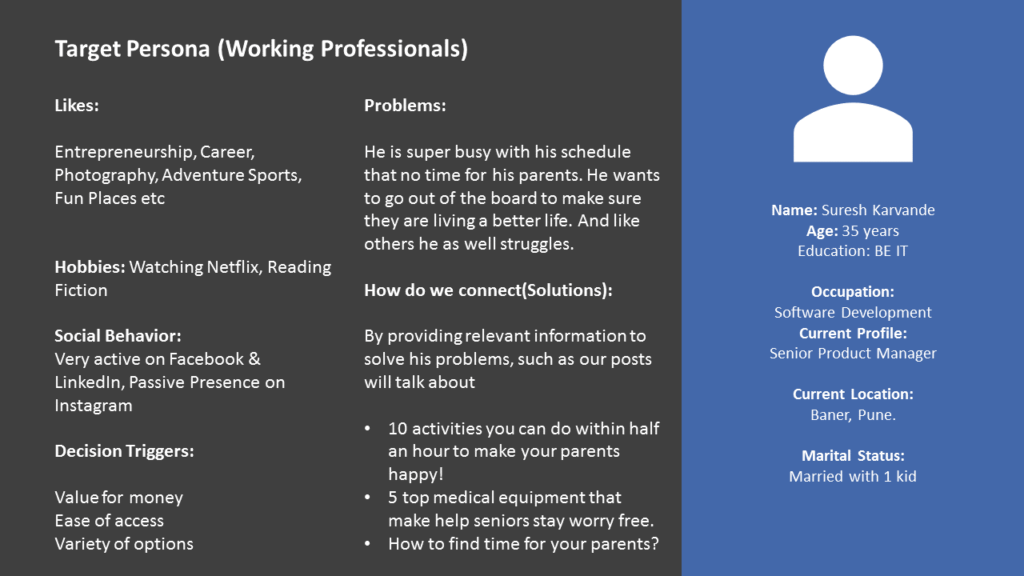 4_ What platforms you are going to target?
Don't jump on each and every platform, specifically when you are just starting with social media marketing. Based on your objectives and your target audience you need to decide the maximum 2 platforms, to begin with. Be it LinkedIn & Instagram or Instagram & Youtube. Just for the sake of being present, don't jump on each platform.
Learn more about each social media platform, understand why people spend time on these channels and build your strategy accordingly. Focusing on one or two platforms would give you time to connect with your audience regularly. It would also help you to master these platforms and then move to others.
5_ Have you defined a solid content strategy?
You may have already read and heard so much about content if you are a digital marketer or an entrepreneur who has been using digital marketing to grow their business. There is no doubt content is a crucial element of your overall marketing strategy. If you don't have a proper content strategy, you won't get any significant results from your digital campaigns.
Here is a long yet informative video that would help you to understand the process of creating a solid content strategy for your brand.
Once you are ready with your content strategy, you need to ask yourself the next set of questions.
6_ Do you have a team to handle this?
You can't win the battle alone, you need the right team to help you achieve your desired goals. You can hire a team in-house if you have budgets, or you can outsource that totally depends on your style of business. If you are just starting and running short on budgets, it is better you take help with experts to build the strategy and use freelancers from the micro-lancing websites to execute your strategies.
Outsourcing content creation would not be very difficult when you are in a service industry or if you have only one or two products. But when you have a pool of products giving briefs to the designers or content writers would become a task. If you are an entrepreneur you may not be getting enough time to handle this.
In an ideal scenario, if you hire a complete in-house team, you need a graphic designer (can be a part-time resource), a content writer, a social media manager (who can strategize, handle pages and run paid ads). In this case, you would also need a Marketing Strategist or Manager who understands your business and can show the path to your newly formed social media team.
7_ Are you ready to respond to comments and queries?
Once you start posting content, once you start to advertise, people would ask questions, leave comments and would like you to interact with them. If you are not present on your social media and you are not engaging with your audience, your platform would more look like a dead platform.
In order to tackle this situation, you need to have a dedicated person who can handle all your social media comments and queries, respond to inbox messages. Someone who has the understanding of your business, who can help clients or prospects answering their queries with the appropriate answers.
You should also create a list of Frequently Asked Questions and their respective answers. Keep this sheet handy give it to the person who would be responsible for social media community management. Use tools like Hootsuite, or Zoho Social to manage all comments and queries under one dashboard so your team doesn't have to log in separately to various social media platforms.
8_ Do you have a dedicated budget to promote your posts?
If you don't have budgets to invest in paid advertising, don't waste your time thinking you will get any business. The market is super competitive, and without regular media spend you will not be able to reach out to your TG. So it is better not to jump on social media at all and wasting time if you are not ready to invest in paid advertising.
It will take a lot of time if you want to go all organic, and honestly the pace market is moving, nobody has got any time. If you are in business, you need to move fast, you need to build a monthly sales cycle, and for that, you need prospects and leads. It will again go back to the same point are you ready to spend money on ads?

Once you have found answers to all these questions, you are ready to kickstart your journey on social media. If you already have a presence on social media, you would still find this post helpful to align & see if it is actually working good for you and how you can further improve it.
Resources:
[1] https://digitalmarketinginstitute.com/blog/digital-marketing-kpis-how-to-choose-and-track
[2] https://faizanization.com/7-proven-steps-to-succeed-in-social-media-marketing/